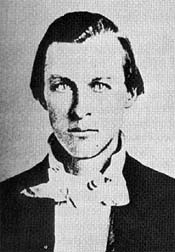 RICHARD WATERHOUSE
1832 – 1876
Richard Waterhouse was born January 12, 1832, in Rhea County, Tennessee, son of elder Richard with whom he has been confused. He ran away from home as a boy to engage in the Mexican War. He removed later in 1849 with his parents to San Augustine, Texas, and assisted his father in the mercantile business.
Soon after the outbreak of hostilities, he was instrumental in recruiting the 19th Texas Infantry in and around Jefferson, Texas. On May 13, 1862, he was commissioned its colonel, serving that year and the next under Generals Hindman and Holmes in Arkansas, and under Gen. Richard Taylor in Louisiana. He was present in the engagement at Milliken's Bend in the command of Gen. Henry E. McCulloch who commended him. Later he fought in Scurry's brigade at both Mansfield and Pleasant Hill during the red River campaign. For his services he was "assigned to command" as a brigadier general by Kirby Smith, April 30, 1864, and was subsequently appointed by Jefferson Davis, March 17, 1865, followed by Confederate Senate confirmation. His command was over the 3rd, 16th, 17th, and 19th Texas Infantry and the dismounted 16th Texas Cavalry.
After the war he resided in both San Augustine and Jefferson engaging in land speculation. In the course of a trip to Waco in March 1876, he fell down stairs in a local hotel and dislocated his shoulder. Two days later, March 20, he died of pneumonia. He is buried in Oakwood Cemetery in Jefferson.