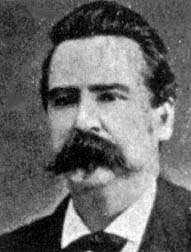 ALEXANDER WATKINS TERRELL
1827 – 1912
Terrell was born on November 3, 1827, in Patrick County, Virginia. In 1832 after the death of his father, the family moved to Boonville, Missouri. Terrell attended the University of Missouri, studied law, and practiced in St. Joseph, Missouri from 1849 to 1852. In that year he moved to Austin, Texas, practicing law there and becoming a judge.
Terrell was a close friend of Gov. Sam Houston and both opposed secession and favored compromise. When Texas voted to leave the Union, Terrell went with them. The first two years of the war, in between his judicial duties, he served as a volunteer aide and as major of the 1st Texas Cavalry. For most of 1862 he was a captain and volunteer aide-de-camp to Brigadier General Henry McCulloch, who commanded Texas troops stationed in Arkansas. Terrell declined a colonel's commission in 1861 and was repeatedly recommended for an officer's commission. Texas Gov. Francis Lubbock praised Terrell's service in Arkansas "without pay or rank, which was declined by him several times" and stated that Terrell "had one of the finest minds in the state". On March 31, 1863, Terrell was commissioned lieutenant colonel of a cavalry battalion that became the 34th Texas Cavalry with him chosen as colonel. In July, 1863, he was temporarily assigned to command the Northern Sub-District of Texas. The 34th spent the balance of 1863 in the District of Texas. In March ,1864 , the 34th along with most troops in Texas were ordered to Louisiana to oppose the Union advance upon Shreveport. At the battle of Mansfield, April 8, 1864, Terrell's troops attacked on the Union right. At the Battles of Pleasant Hill the next day, his dismounted troopers seized a Union position, but could advance no further. He led Arthur Bagby's veteran Cavalry brigade at the battle of Mansura on May 16. In September, 1864, Terrell commanded a brigade of three Texas Cavalry regiments forming the advance line of Confederate positions in west Louisiana. Brigadier Gen. Bagby returned and assumed command by the end of the year with Terrell returning to the 34th Texas. In late April of1865, the brigade was drawn back to Texas where the troops deserted their colors upon hearing of Lee's surrender in Virginia. On May 14, 1865, Terrell disbanded his remaining troop in view of the cause being lost, but Gen Kirby Smith who was unaware of what had happened named him brigadier general on May 16, 1865. This left Terrell with a title, but no troops.
Terrell fled to Mexico becoming an officer in Maximilian's army. He returned to Texas and had a varied post bellum career as lawyer, politician, cotton planter, and was elected four times to the state senate, serving from 1876 to 1883. He also served three terms in the state house, was elected reporter to the Texas Supreme Court, and was an ambassador to Turkey in the Cleveland administration. Gen. Terrell ran unsuccessfully for the U. S> Senate in 1887. His efforts in behalf of the state university, both in the legislature and as regent o the board of trustees, earned him the title "Father of the University of Texas". A historian, Terrell became president of the Texas State Historical Association. He lived in Houston in 1865, Robertson County 1865 to 1871, and then Austin. Gen. Terrell died September 9, 1912, at Mineral Wells, Texas, and is buried in the State Cemetery in Austin.