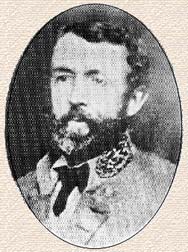 JOHN CREED MOORE
1824 – 1910
Moore was born in Hawkins County, Tennessee, February 28, 1824. He obtained his education at Emory and Henry College and graduated from the U S Military Academy in 1849. After seeing action in Florida against the Seminoles and garrison duy in Santa Fe and Baton Rouge, he resigned his commission in 1855. In 1861 he was a professor in Shelby College, Kentucky, and then went to Galveston, Texas.
In Texas he organized the 2nd Texas Infantry of which he was elected colonel. At the head of this regiment, in participated in the battle of Shiloh for which Gen. Withers commended him for gallantry. He promoted brigadier general on May 26, 1862, commanding his old unit as well as the 35th, 37th, 40th, and 42nd Mississippi infantry regiments. He took part in the attack at Corinth, and in the Vicksburg campaign. After his capture and exchange, he fought at Chattanooga under Gen. Bragg. He was then sent to assist in the defense of Mobile at the special request of Gen. Maury, who assigned him to command the Eastern and Western Districts of the Department of the Gulf on December 10, 1863. For unknown reasons Moore resigned his Confederate commission Feb. 3, 1864.
For many years after the war he taught school in Texas, residing variously in Mexia and Dallas. He was a prolific contributor to magazines and journals. He passed at Osage, Texas, in his 87th year, on December 31, 1910. He is buried in City Cemetery in Osage, Texas.