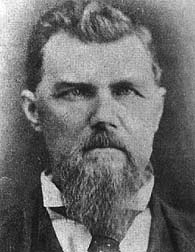 HINCHIE PARHAM MABRY
1829 – 1884
Mabry was born at Laurel Hill in Carroll County, Georgia, October 27, 1829. His father of the same name was a veteran of the War of 1812. He attended the University of Tennessee for one year in 1849, but was compelled to leave due to lack of funds whereupon he moved in 1851 to Jefferson, Texas, and became a merchant. He practiced law and was a state representative from 1856 to 1861.
Although he opposed secession, Mabry raised the "Dead Shot Rangers" of he 3rd Texas Cavalry and was elected captain on June 13, 1861. The 3rd rode to Missouri and fought at the Battle of Wilson's Creek, August 10, 1861. While on a scouting mission in the fall of 1861 he was shot through the arm. He recovered sufficiently to lead his company on March 6 and 7, 1862, at the Battle of Pea Ridge, but bore a crippled arm and hand the rest of his life. The regiment reorganized May 8, 1862, and Mabry was elected lieutenant colonel. At the Battle of Iuka, September 19, 1862, he was severely wounded and captured. After being exchanged in October, he was promoted to full colonel. He returned to Texas to recuperate from his wounds. In the summer of 1863 he rejoined the 3rd and was given temporary command of Brigadier General John W. Whitfield's brigade of Texas cavalry. During 1864 and 1865, Mabry led a Mississippi cavalry brigade in actions throughout northern and central Mississippi. He won praise for being absolutely fearless and a strong disciplinarian and was repeatedly recommended for promotion by his superiors. His most noted exploit was the capture of Union gunboat Petrel near Yazoo City, Mississippi, in 1864. He commanded a brigade in Lt. General N. B. Forrest's cavalry corps until the Army of Tennessee's 1864 invasion into Tennessee when he was left behind to guard the army's line of supply. In March 1865 he was ordered to Louisiana to help conduct Trans-Mississippi troop to the east side of the Mississippi. He was paroled June 22, 1865, in Shreveport at the end of the war.
Mabry returned to Jefferson to practice law and was elected judge. In 1866 he was a delegate to the state constitutional convention. He also was a leader in the local KKK affiliate, the Knights of the Rising Sun, during reconstruction. After one particularly notorious lynching, he had to flee to Canada to avoid prosecution. He relocated to Ft. Worth in 1879, where he resided the rest of his life. He died of an accidental pistol wound to the foot on March 21, 1884, in Sherman, Texas, and is buried in Oakwood Cemetery in Jefferson.