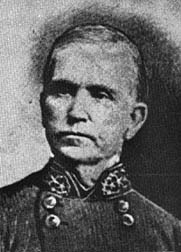 THOMAS HARRISON
1823 – 1891
Thomas Harrison was born in Jefferson County, Alabama, on May 1, 1823, but grew up In Monroe County, Mississippi.. He moved to Texas in 1843 and studied law in Brazoria County. Later he returned to Mississippi from which he went to the Mexican war as a member of the 1st Mississippi Rifles. Living first in Houston after that war, he served a term in the Texas legislature from Harris County, and then settled permanently in Waco. Harrison was a captain of a volunteer militia company serving in West Texas.
Harrison entered the Confederate Army with his company in the 8th Texas Cavalry, better known as "Terry's Texas Rangers". He was promoted colonel just prior to the battle of Murfreesboro in Tennessee. His regiment served with Wheeler's command at Chickamauga and during the subsequent campaigns in Georgia and the Carolinas. He was appointed brigadier general the last months of the war to rank from January 14, 1865.
Returning to Waco after the war, Harrison was elected district judge and was a Democratic Presidential Elector in 1872. He died in Waco on July 14, 1898, and is buried there. Thomas was the younger brother of CSA Gen. James Edward Harrison.