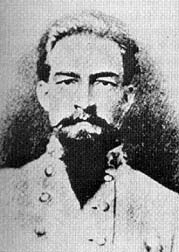 WILLIAM HUGH YOUNG
1838 – 1901
William Hugh Young was born in Booneville, Missouri, on January 1, 1838. His parents Took him to Texas in infancy where they family lived first at Red River and later in Grayson County. He received at good education at Washington College, Tennessee, and McKenzie College, Texas, and at the University of Virginia which he attended from 1859 to 1861.
In September 1861 he returned to Texas and recruited a company for Confederate service. He was elected captain of this unit which became a part of the 9th Texas Infantry. After the battle of Shiloh he was promoted colonel. He fought with great gallantry at Perryville, Kentucky, Murfreesboro where he was wounded, in the Vicksburg campaign with Johnston when he was again wounded, and at Chickamauga where he received yet another wound. In the Atlanta campaign the 9th Texas was in Gen. W. D. Ector's brigade. At Kennesaw Mountain Young suffered 2 more wounds, but continued in command . He was made brigadier general August 15, 1864, to succeed Ector who was disabled. On the subsequent March into Tennessee Gen Young's left foot was all but shot off in the attack upon the Federal Fort at Allatoona. There he fell into the hands of the enemy resulting in captivity at Johnson's Island, Ohio, until July 24, 1865.
After that time he was a prominent lawyer and real estate operator in San Antonio, Texas, until his death on November 28, 1901. He is most honorably buried in the Confederate Cemetery in San Antonio, Texas.