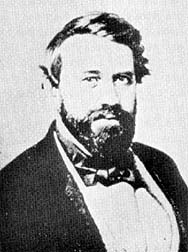 LOUIS TREZEVANT WIGFALL
1816 – 1874
Wigfall was born near Edgefield, South Carolina, April 21, 1816. He was educated at the University of Virginia and South Carolina College, graduating from the latter in 1837. He was admitted to the bar in 1837. An intransigent secessionist as early as 1844, he moved to Marshall, Texas, in 1839, served in both houses of the legislature, and was elected in 1859 to the U S Senate. There he hurled defiance in the face of his Northern adversaries and was instrumental to the defeat of the Crittenden compromise to the issue of slave states. At all times he advocated the withdrawal of the Southern states and the formation of a Confederacy. He was finally expelled from the Senate on July 11, 1861.
He had meantime been present at the bombardment of Sumter while serving as an aide to Gen. P. G. T. Beauregard. He took upon himself to row out to the fort occupied by Union Gen. Anderson and demanded their surrender which made him something of a hero to the radicals, but astonished all thoughtful spectators considering he was not under orders and lacked any such authority. Already a member of the Provisional Congress, he was commissioned colonel of the 1st Texas Infantry on August 28, 1861. Then on August 28, President appointed him brigadier general in the Provisional Army. For a time he commanded the famous Texas Brigade composed of the 1st, 4th, and 5th Texas Infantry along with 1st or 18th Georgia Infantry. Gen. Wigfall resigned his commission February 20, 1862, to take a seat in the Confederate Senate where he remained until the war's end during which time he fervently defended Gen. Joseph E. Johnston at every turn and tirelessly opposed President Jefferson Davis. He was "the man" to contact in any dispute with the central government in Richmond that could undermine Davis or his policies. He was, however, largely responsible for the bill that made Gen. Robert E. Lee the General in Chief of Confederate armies late in the war.
He escaped to England in 1865, he returned to the U. S. in 1872 and took up residence in Baltimore. Two years later he moved to Galveston, Texas, where he died on February 18, 1874, one month after his arrival. He is buried in the Episcopal Cemetery in Galveston.