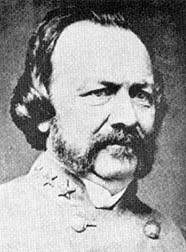 THOMAS NEVILLE WAUL
1813 – 1903
Thomas Neville Waul, was born January 5, 1813, in Sumter District, South Carolina. He attended South Carolina College until his junior year. After teaching school for a time in Florence, Alabama, he studied law in Vicksburg, Mississippi, and was admitted to the bar in 1835. Soon after he moved to Gonzales County, Texas, where he established a plantation and practiced his profession. An unsuccessful Democratic candidate for Congress in 1859, he was elected to the Provisional Congress of the Confederacy in 1861 and served until establishment of the permanent government.
He recruited and supplied the well known Waul's Texas Legion in 1862, and was commissioned its colonel. He surrender his command in 1863 with the fall of Vicksburg, and was promoted brigadier general, September 18, 1863. In the Red River campaign of 1864 he commanded a brigade in Gen. John G. Walker's division at Mansfield and Pleasant Hill. Later he was transferred to Arkansas to opposed Steel and fought at the battle of Jenkins' Ferry.
Immediately after the war in 1865, Gen Waul was elected to the first Texas reconstruction convention. Thereafter he practiced law in Galveston, and in later life retired to a farm in Hunt County near Greenville where he died on July 28, 1903. With no relatives, Waul was the last of his line. He is buried in Oakwood Cemetery in Fort Worth.