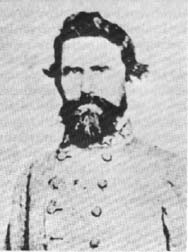 JEROME BONAPARTE ROBERTSON
1815 – 1890
Jerome Bonaparte "Polly" Robertson, father of Gen. Felix Huston, was born in Woodford County, Kentucky, March 14, 1815. Left penniless at an early age by the death of his father, he was apprenticed to a hatter for a number of years. Afterwards he studied medicine and graduated from Transylvania University in 1835. Removing to Texas the following year, he saw some service in the army of the then republic and subsequently settled in Washington County where he practiced his profession for 34 years. There he became renown as an Indian fighter. He served in both houses of the Texas legislature and was a delegate to the Texas secession convention of 1861.
Robertson entered Confederate service as a captain of the 5th Texas Infantry; and was promoted lieutenant colonel November 1861, colonel June 1, 1862, and brigadier general on November 1, 1862. He led his regiment in the Seven Days battles, and was wounded at Second Manassas, and again at Gettysburg while leading the Texas Brigade composed of the 1st, 4th, 5th Texas, and the 3rd Arkansas Infantry regiments. Polly went with Longstreet to the West and fought at both Chickamauga and in the Knoxville campaign. He subsequently was transferred to texas to assumne command of the reserve corps of the state. The balance of his war service was in the Trans-Mississippi.
Returning home to Independence, Texas, Gen Robertson practiced medicine for a time and in 1874 became state superintendent of immigration. Five years later he moved to Waco and interested himself in railroad building in West Texas. He died in Waco on January 7, 1891, and is buried there in Oakwood Cemetery.