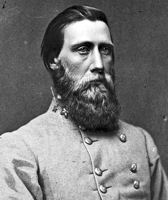 JOHN BELL HOOD
1831 – 1879
John Bell Hood, born in Owingsville, Kentucky, June 1, 1831, and graduated from West Point in the class of 1853 had by all odds the most spectacular advance in rank of any officer in the Confederate service. After serving in California and Texas, he resigned his union 1st lieutenant position on April 17, 1861.
There after he distinguished himself on a dozen battlefields as a regimental, brigade, and division commander in the Army of Northern Virginia. Initially he was a captain of cavalry and then colonel of the 4th Texas Infantry on September 30, 1861. After promotion to brigadier general to rank from March 3, 1862, he commanded the Texas Brigade composed of the 1st, 4th, 5th Texas Infantry as well as the 18th Georgia and Hampton's Legion infantry during the Peninsula campaign and Second Manassas. He was then promoted to major general October 10, 1862, and as a division commander under Gen. Longstreet he distinguished himself at Sharpsburg where he led the brigades of Robertson, Law, Benning, and Jenkins and at Fredericksburg where his command was composed of the brigades of Law, Toombs, Robertson, and Anderson all of the Army of Northern Virginia.
After being severely wounded in the arm at Gettysburg where his troop performed superbly and after losing a leg at Chickamauga, he was appointed lieutenant general on February 1, 1964, to rank from September 20, 1863, and assigned to a corps under Joseph E Johnston whom he ultimately superseded. Hoods corps was composed of the divisions of Hindman, C L Stevenson, and A P Stewart, Army of Tennessee. Hood was appointed full general with temporary rank on July 18, 1864. After severe battles of Peachtree Creek, Atlanta, Ezra Church, and Jonesboro, Hood marched his army into Tennessee. Federal Gen J M Schofield withdrew before Hood, but slipped by Hood's forces to occupy Franklin and fortify sufficiently to shatter Hood's frontal assault. Hood pressed on to Nashville ill supplied in the dead of winter where his army was devastated by Union Gen. George Thomas. Hood was then relieved at his own request in January 1865 and reverted to his permanent rank of lieutenant general. In May he surrendered himself in Natchez, Mississippi.
He later made his residence in New Orleans, where he died of yellow fever, together with his wife and one of his children. He is buried in Metairie Cemetery in New Orleans. Before his death, Hood wrote a volume of memoirs.