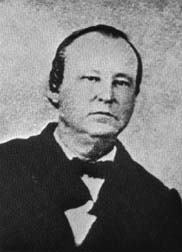 JAMES EDWARD HARRISON
1815 – 1875
James Edward Harrison, older brother of Thomas, was born in Greenville District, South Carolina, April 24, 1815. His family soon moved to Alabama and then to Mississippi where he eventually served two terms in the state senate. Moving to Texas in 1857, he settled near Waco, and in 1861, was commissioner to treat with the Indians on behalf of the State of Texas. He also became a member of the Texas secession convention.
Harrison entered Confederate service in the 15th Texas Infantry, with which almost his Entire army career was in comparatively minor operation west of the Mississippi River. He participated under the command of Gen Tom Green in the Louisiana campaigns of 1863 and 1864. In both campaigns he received favorable mention by Green and Gen. Richard Taylor. He was appointed brigadier general to rank from December 22, 1864.
After the war he returned to Waco, where he was prominent in local affairs and served as a trustee of Baylor University until his death on February 23, 1875. He is buried in Fort Fisher Cemetery in Waco.