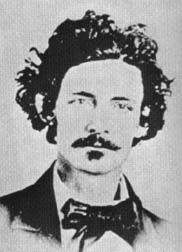 HIRAM BRONSON GRANBURY
1831 – 1864
Granbury was born on Copiah County, Mississippi, March 1, 1831. He was educated at Oakland College in Rodney, Mississippi. Removing to texas in the early 1850's, he established himself in Waco, studied law, was admitted to the bar, and served as chief justice of McLennan County from 1856 to 1858, an office roughly similar to chairman of the county board of supervisors.
He recruited the Waco Guards in 1861, took it east, and was elected major of the 7th Texas Infantry in October of that year. After he was captured and exchanged at Fort Donelson, he became colonel of the 7th Texas, serving in the Vicksburg campaign, at Chickamauga, and at Chattanooga. Granbury was in brigade command during the retreat from Chattanooga and was especially commended by Gen Patrick R. Cleburne. Commissioned brigadier general to rank from February 29, 1864, he led the Texas brigade through the Atlanta campaign and into Tennessee with John B. Hood. At the battle of Franklin, November 30, 1864, Granbury was one of six Confederate generals either killed or mortally wounded. He died along with Cleburne just a few rods from the massive Federal works in the disastrous frontal assault of the Confederates. He was initially buried in Franklin, but was removed in 1893 to be reburied in City Cemetery in Granbury, Texas, which is named for him.