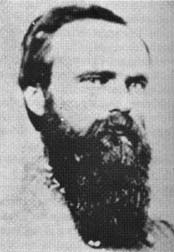 RICHARD MONTGOMERY GANO
1830 - 1913
Gano was born in Bourbon County, Kentucky, June 17, 1830. He was educated at Bacon College, Harrodsburg, KY, Bethany College in Virginia, and Louisville University Medical School. He practiced medicine for 8 years in Bourbon County. He moved to Tarrant County, Texas, in 1859, and saw service against the indians and was thereafter a member of the Texas legislature.
He entered the Confederate Army as commander of a squadron in John Hunt Morgan's command, and participated in the Kentucky invasion of 1862 and in the Tulahoma campaign as colonel of the 7th kentucky Cavalry. For a time Gano was in command of Morgan's division. He later transferred to the Trans- Mississippi Department with rank of colonel and was assigned to Indian Territory in command of a brigade of cavalry and artillery. After distinguishing himself in the Camden campaign against Steele, in which he was wounded, Gano was first assigned to duty as brigadier general by Gen. Kirby Smith, later receiving official appointment from President Davis to rank from March 17, 1865.
After the war Gen. Gano entered the ministry of the Christian Church, which he served faithfully for more than 45 years. Active in the affairs of the United Confederate veterans until the last, he died in Dallas, Texas, March 27, 1913. he is buried in old Oakwood Cemetery.