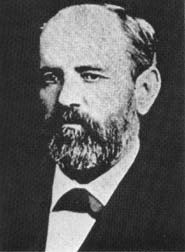 MATTHEW DUNCAN ECTOR
1822 - 1879
Ector was born in Punam County, Georgia, on Feb 28, 1822. He was educated at Centre Colleg in kentucky. After admission tom the Georgia bar in 1844, he served one term in the legislature and then moved to Henderson, Texas, where he was served one term in the legislature in 1855.
Ector enlisted as a private in 1861 and was appointed adjutant of Gen J L Hogg's brigade which he accompanied to Corinth, MS. Shortly thereafter he was elected colonel of the 14th Texas cavalry. This regiment, dismounted, he led through Gen Bragg's invasion of Kentucky and distinguished himself by hard fighting at the battles of Richmond and Murfreesboro. He had meantime been commisssioned brigadier general to rank from August 23, 1862, commanding the 10th, 11th, 14th, and 32nd TX regiments of dismounted cavalry. He was present at Chickamauga, and returned tp Mississippi to take prt in the Atlanta campaign, during which he had a leg amputated. This injury put an end to his active field service although he participated in the defense of Mobile during the latter days of the war.
Ector returned to Texas to ressume his law practice and was later elevated to to the bench. He died in Tyler, October 28, 1879, while serving as presiding justice of the Texas court of appeals. He is buried in Greenwood Cemetery in Marshall, Texas. Ector Couinty, Texas, is named in his honor.